Using the application
Via the user interface
To launch the application, use the Screenshot item in the Accessories category of Xfce's main menu.
Take a screenshot
Take a screenshot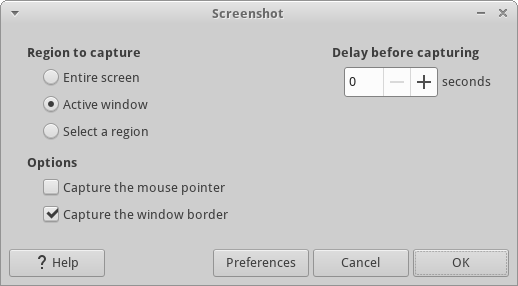 Region to capture
The Region to capture section allows you to set what the screenshot will be taken of:
Capture the mouse pointer
Delay before capturing
The Delay before capturing section allows you to set the delay that will elapse between pressing the OK button and screenshot being taken. This delay will allow you to open menus or to perform whatever action you require to see displayed in the screenshot.
After capturing
After pressing the OK button a second window will be displayed:
Action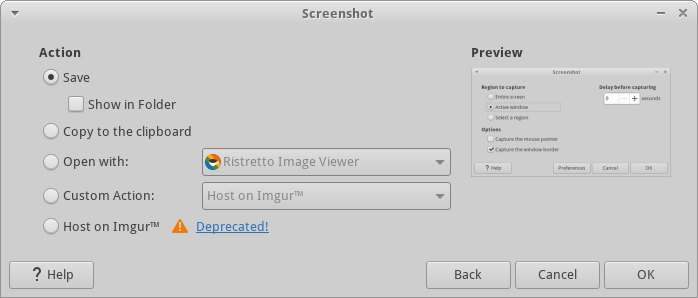 Preview
The Preview section displays a thumbnail of the screenshot.
Action
The Action section allows you to choose what should be performed on the screenshot.
Save
FTP…
Copy to the clipboard
Open with
Host on ZimageZ
Host on ZimageZ
After selecting Host on ZimageZ and pressing the OK button, you will be shown this dialog:
ZimageZ login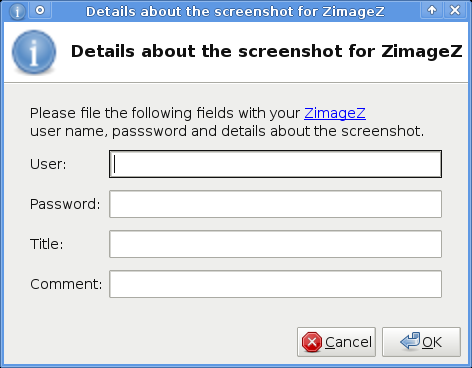 If you do not have a ZimageZ user name, you will need to create one on the ZimageZ website. Several languages are available on this website, you can switch between using the menu up right. You must fill all fields of this dialog. Once you click the OK button, the upload will start.
The dialog below will give you the links to the full size screenshot, the large thumbnail, the small thumbnails, as well examples of HTML and BBcode to create a thumbnail pointing to the full size screenshot:
ZimageZ results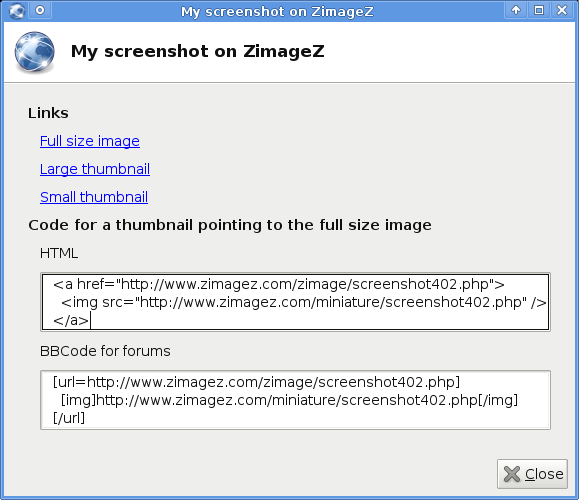 Via command-line
Command line options allow you to take screenshots quickly. They also allow you to configure the Print Screen key on the upper right of most keyboards so that it takes screenshots. To do so, configure the key-bindings of your desktop environment so that it launches xfce4-screenshooter with one or several of the following options when the Prt Scrn key is pressed.
The command line options