Preferences
To configure Terminal, choose Edit → Preferences... or right-click the terminal area of the window and choose Preferences.... This will bring up the Terminal Preferences dialog, which allows you to adjust Terminal's behaviour to your needs.
To change the application shortcuts, read the FAQ section "Editable Menu Accelerators".
Open Terminal Preferences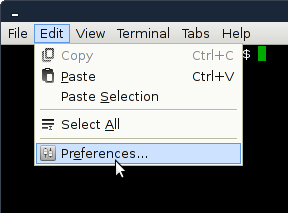 General
General Tab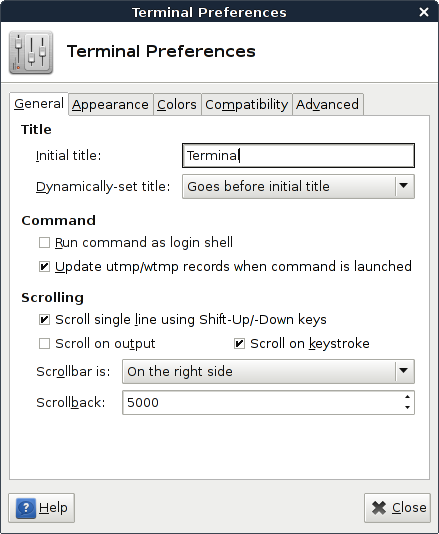 Title
Command
(removed in 0.8.0)
Scrolling
(since 0.8.0)
Appearance
Appearance Tab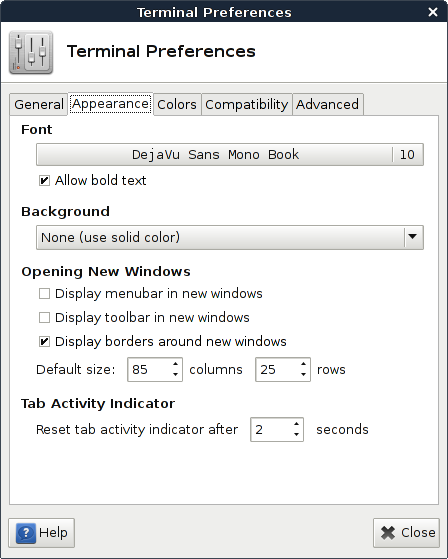 Font
Click on the button to select the font type and font size you want to use for the terminal.
Background
Select a background for the terminal window. The options are as follows:
Colors
Image file
Style
If you have selected Background image or Transparent background, you can use the slider Shade transparent or image background to shade or dim the background of the terminal.
Opening new windows
Tab Activity Indicator
The time in seconds a non-active tab title will be highlighted in the Tab activity color, you can set in the Colors tab. If the time expired and the tab is not visited yet, the color will be changed to the color between the activity color and the normal text color defined by the theme.
To disable this feature, set the time to 0.
Colors
Colors Tab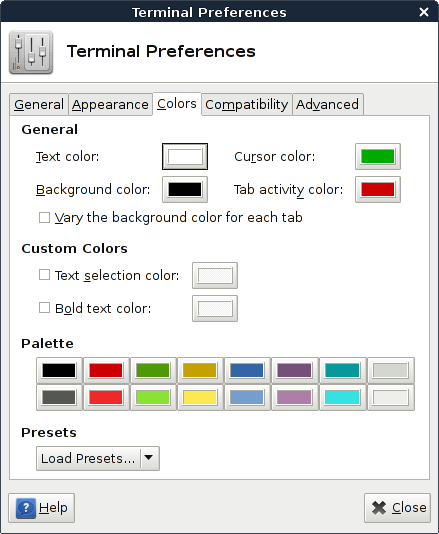 General
Transparent backgroundBackground imageAppearanceHueSaturationValueValue
Custom Colors
Palette
The terminal provides the application running inside with a palette of 16 colors. You can customize these colors using the 16 color buttons. To show the palette combinations, run xfce4-terminal --color-table in a window.
Presets
Load default presets. The preset will set the colors and options defined in the file or reset them to the default value.
Compatibility
Shortcuts Tab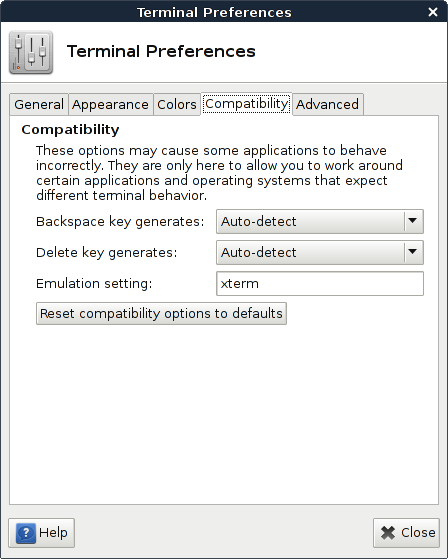 Backspace
Delete
(removed in 0.8.0)
$TERM/etc/termcap$TERM~/.bashrcxterm
Compatibility
Advanced
Shortcuts Tab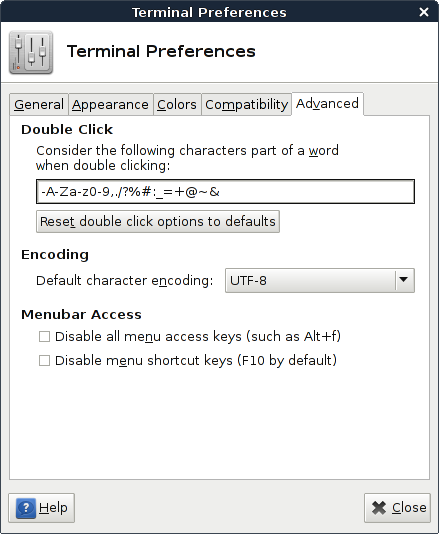 Double Click
Encoding
Choose the default encoding for the terminal. You can temporarily override this using the Terminal → Set Encoding menu in the menubar.
Menubar Access (Shortcuts in 0.8.0)
Misc (since 0.8.0)