This is an old revision of the document!
---
Mouse and Touchpad
The page is work in progress!
Device
Device Settings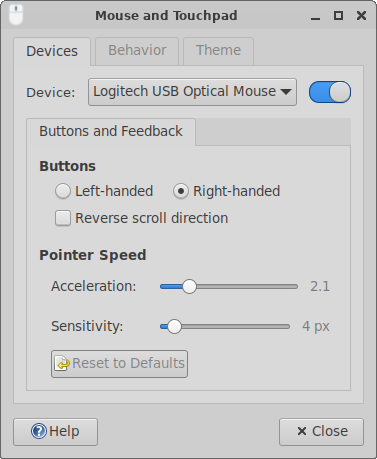 With this combo box you can select the device you want to edit, the settings below will adjust to the selected device. The list shows all connected pointer devices.
Uncheck this option to turn a device off. If a device it disabled, it won't send any coordinate updates to the pointer. By default all (new) devices are enabled.
Buttons
If you select Left-handed the primary and secondary buttons on the mouse will be reversed.
If this option is enabled, the scroll direction will be reversed (sometimes called "natural scrolling").
If you want to see the resulting button map; use the xinput utility. First find the device ID using xinput list and then view the mapping of the device with xinput get-button-map <device-id>.
Pointer Speed
Cursor
Cursor Theming