Stopwatch
Written by Diego Ongaro, this plugin keeps track of elapsed time - right on your panel.
---
Usage
Just add it to the panel. There are no ways to configure the plugin at this time.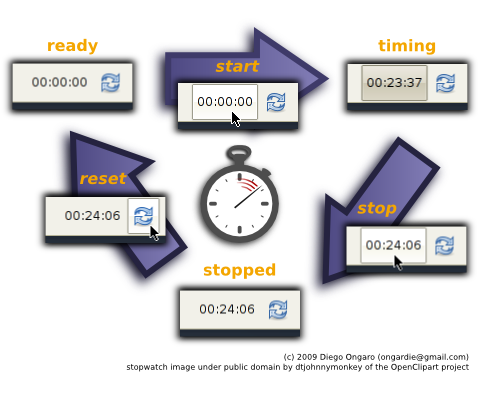 The time elapsed will be saved when your panel quits and restored next time it's running. If time was ticking, it will not start ticking again automatically.
---
Latest Release
0.3.1 (2019/06/10)
xfce4-stopwatch-plugin-0.3.1.tar.bz2
SHA-256 Hash: 50c46eee58b0fe8d22cd5ddd630a82014c0b0c17911c890f27c4d31ddf6eaa1d
SHA-1 Hash: ec56719f5ac44269aa220aa3bd54a006d32de3be
MD5 Hash: ae33ab673aaf761d868c9f275d2958dd
---
Version 0.2.0 (2009-07-27)
First stable release

Basic functionality
Dependencies
Source Code Repository
Reporting Bugs
If you encounter a bug in Stopwatch, please submit a bug report to the Xfce Bugzilla. Please note that to do this you will need to have / create an account on Bugzilla.
Open Bugs