This is an old revision of the document!
---
Clock
The Clock panel plugin displays the current time in a variety of styles and formats.
Properties
Clock's properties dialog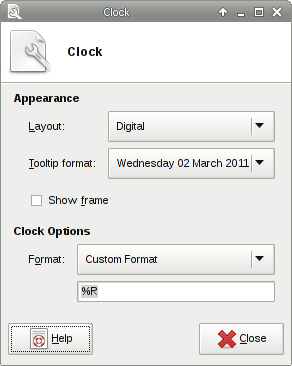 Appearance
Changes how the time is displayed when hovering over the clock display.
Displays a frame around the clock display.
Clock Options
The options available in Clock Options will vary depending on the clock Layout selected.
Displays time in a 24-hour (military) format. (LCD layout only.)
Displays a seconds indicator in the clock display. (Analog, LCD, and Binary layouts only.)
Flash the seperators between digits. (LCD layout only.)
Changes the time format of the clock with predefined or custom layout. (Digital layout only.)
Changes the degree of 'fuzziness' that the clock will display. 0 being the most accurate, 1 being less accurate, and 2 being the least accurate. (Fuzzy layout only.)
Displays an 'A' or 'P' to indicate the time of day. (LCD layout only.)
Adds gridlines to the clock. (Binary layout only.)
All dots that are empty are not shown in the clock display. (Binary layout only.)
Displays a seconds indicator in the clock display. (Binary layout only.)