Preferred Applications
This dialog provides options to define default applications for specific use cases and mime types.
Internet
The first tab of the Default Applications window allows you to select your default Web Browser and Mail Reader. The Web Browser will be used to open hyperlinks that you click on and to display the documentation, whereas the Mail Reader will be used to compose emails when you click on email addresses, for instance on a website.
Preferred Internet applications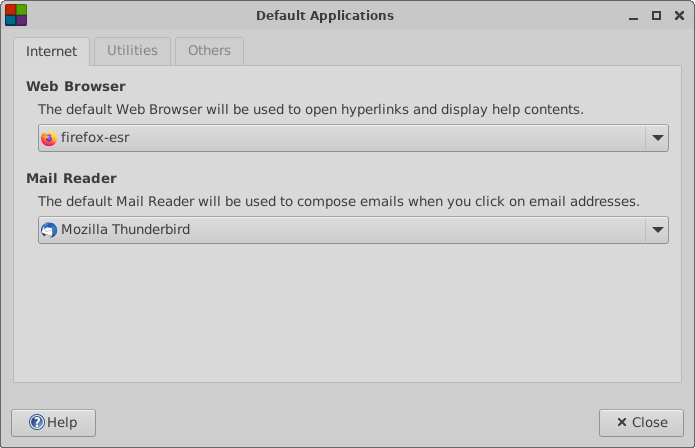 To select a different web browser to be used for opening links, click the drop-down menu in the Web Browser section, and choose your desired browser from the list of web browsers that are detected.
If the browser you are looking for is not automatically detected by the system, you can select Other... from the drop-down menu and a dialog will appear asking you to enter the command to execute the custom browser, as shown below.
Specify a custom Web Browser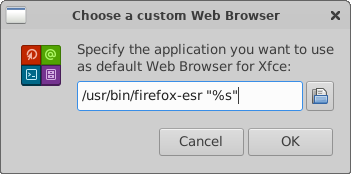 The "%s" in the command will be substituted with the URL when you click on a hyperlink.
When running just the preferred Web Browser without any URL, i.e. using exo-open –launch WebBrowser, only the binary of the specified command will be used and any parameters will be stripped off. In the example above, with mywebbrowser "%s" as the custom web browser, the command mywebbrowser will be used to open the browser without an URL.
Utilities
The second tab of the Preferred Applications window allows you to select your default File Manager and Terminal Emulator. The File Manager will be used throughout the system to open folders to browse files, and the preferred Terminal Emulator will be used to run scripts and launch applications that need to be run in a CLI environment.
Preferred utility applications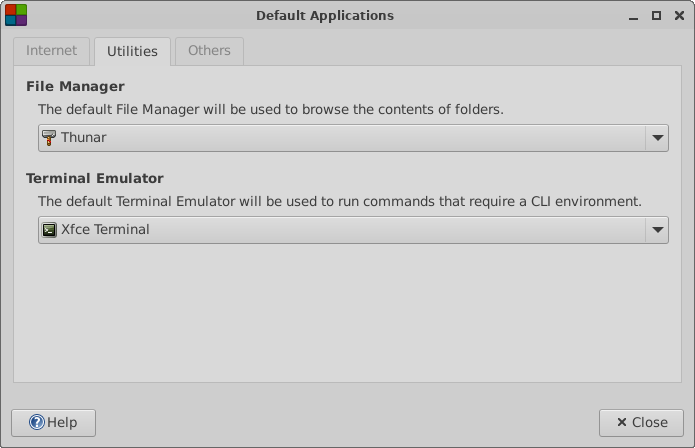 For custom terminal commands, the "%s" in the command will be substituted with the application to run. Otherwise, the same rules apply as described in the section above.
Others
A Multipurpose Internet Mail Extension (MIME) type identifies the format of a file. The MIME type enables applications to read the file. For example, a file manager can use the image/png MIME type to detect that a Portable Networks Graphic (PNG) should be opened with Ristretto.
With the MIME Type Editor application, you can view and modify the Default Application that is associated with a Type.
MIME Type Editor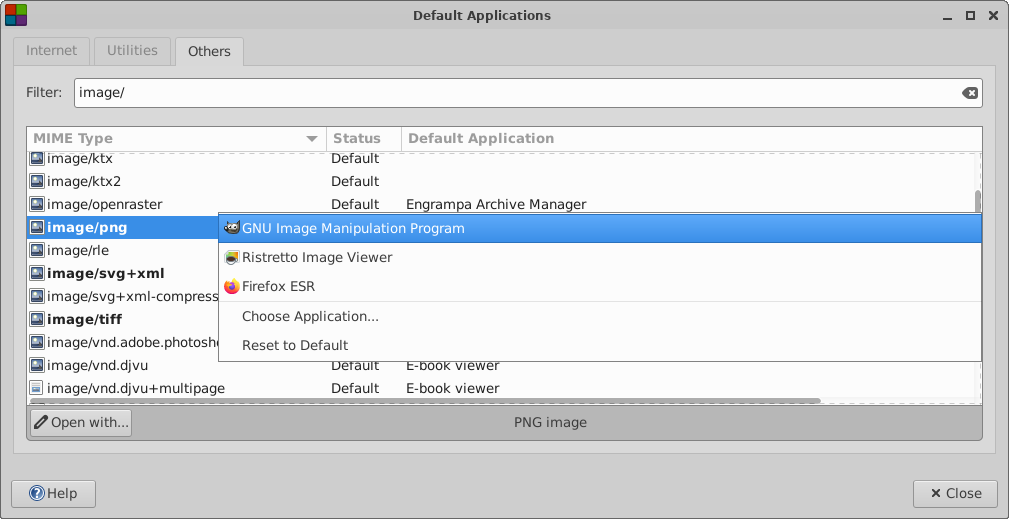 Application Chooser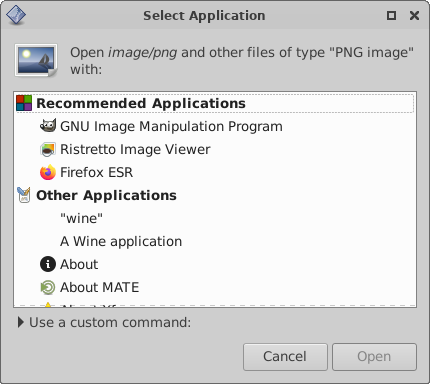 ---
Back to main Xfce documentation page