DiskPerf - xfce4-diskperf-plugin
This plugin displays instant disk/partition performance (bytes transferred per second) for Linux, OpenBSD/NetBSD/FreeBSD and Solaris systems
Usage
Add this plugin to the panel. Right-click on the icon and open the settings. There are three sections:
In the first section, specify which device monitor, the label and the update interval in seconds;

In the second section, specify which activity to monitor; selecting I/O transfer (it is the default) will alow for inserting a max rate;

In the last section, if a combined bar is used for reading and writing or two separate bars; or, if a single bar is preferred, the bar orders and colors can be customised.
Default settings with I/O transfer and a single bar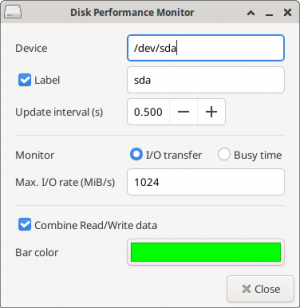 Busy time monitor with a single bar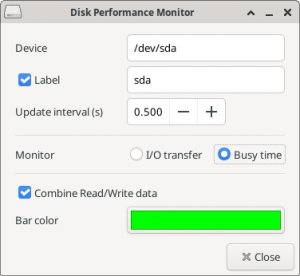 Read and write data in two bars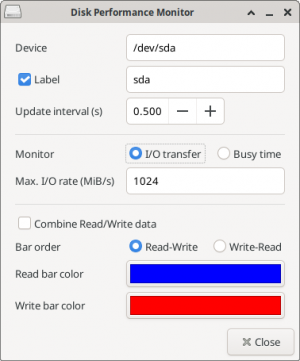 ---
Latest Release
2.6.2 (2019/08/13)
xfce4-diskperf-plugin-2.6.2.tar.bz2
SHA-256 Hash: fd2e9843da5822de96a7829e50ba496c34a50fb8492d5b5f792558c6b7ce9644
SHA-1 Hash: 997e484f2d05767b9318eb07443fac6a779cb33c
MD5 Hash: 538119ea97a217695b297e2d165b305f
---
Release History
2.5.5 (2015/3/3)
Use the new GtkTooltip API

Fix a memory leak in the FreeBSD codepath (#11153)

Add support for FreeBSD (bug #10350)

New translations: th, ms, bg, oc, hr, en_AU, sr

Updated translations: ar, ast, bg, cs, de, es, fr, it, hr, hu. ko, nb, nl, ug, pl, sv, tr, zh_CN, zh_TW
2.5.4 (2012/6/30)
Better compliance with panel plugin HIG

Use double values for progress bars (bug #8882)

Facilitate bringing up the configuration dialog (bug #8899)

Fix transparency (bug #8892)
2.5.3 (2012/5/13)
Use newer tooltip API (bug #8730)

Make tooltip strings translatable and MB→MiB string updates (bug #8828)

Always update progress bars even if stats are unavailable (bug #8845)
2.5.2 (2012/4/29)
Gracefully allow to monitor non-present devices (bug #6749)
2.5.1 (2012/4/13)
Translation updates (uk,eu,pt_BR,it,da,nl,pt,gl,ko,zh_CN,sk)
2.5.0 (2012/4/9)
* Build the plugin as a module
2.4.0 (2012-04-03)
Port to libxfce4ui (bug #8099)

Port to panel 4.9 (bug #8401)

Fix translations (bug #6343)

Explicitly link with libm (bugs #7982,#8514)

Add Solaris support (bug #7167)
2.3.0 (2011-01-21)
Support for Xfce 4.8 panel

Translated into 30 languages

Allow editing the label, even when it is not displayed in the panel, fixing bug #6176

Compile fixes
---
Recent Changes
Getting it
Source code repository
Reporting Bugs
If you encounter a bug in Diskperf, please submit a bug report to the Xfce Bugzilla. Please note that to do this you will need to have / create an account on Bugzilla.
Open Bugs