Whisker Menu
Written by Graeme Gott, this plugin is a menu that provides access to favorites, recently used, and searching installed applications.
---
Usage
When you open the menu you are shown a list of applications you have marked as favorites. You can browse through all of your installed applications by clicking on the category buttons on the side. Whisker Menu also keeps a list applications that you've launched.
Favorites are easy to add and reorder. When browsing through your applications, right-click on any of them and select "Add to Favorites". Simply drag and drop your favorites list to arrange them to suit your needs. You can remove them at any time from another right-click option.
You can also quickly find applications by entering a search term. The search field is focused when opening the menu, so you can just start typing. Application descriptions as well as names are searched, which allows you to find a program by using a general word.
---
Screenshots
Menu
Options
Appearance Options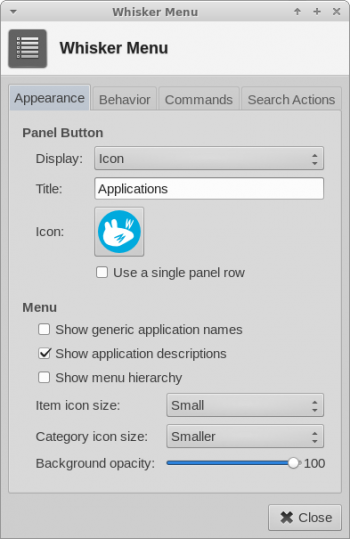 Behavior options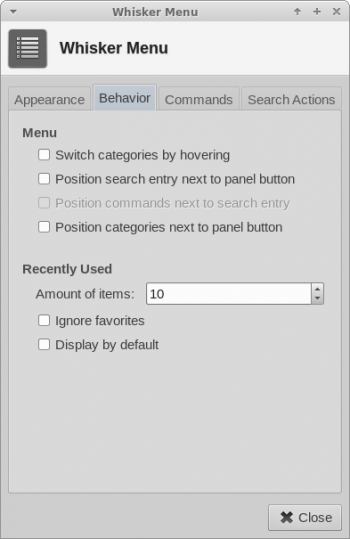 Command options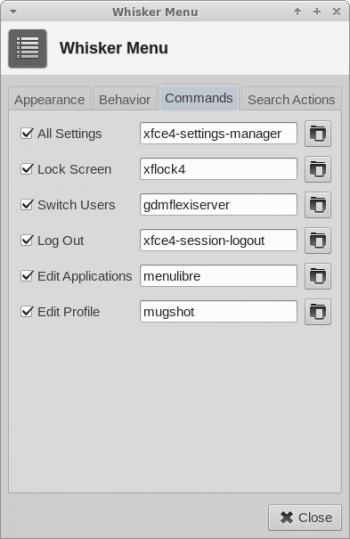 Search action options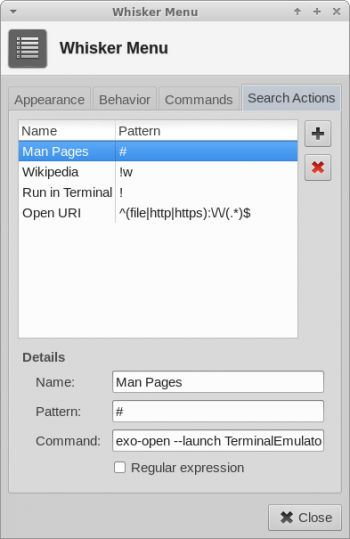 ---
Latest Release
2.3.4 (2019/11/05)
xfce4-whiskermenu-plugin-2.3.4.tar.bz2
Fix building against xfce4-panel 4.15.0

Translation updates: Dutch, Galician, Georgian.
SHA-256 Hash: 84d3de35695a023aab181f7a9b75f59029eb3b07c3e47a5e11e8bd79db62570e
SHA-1 Hash: 18f608497082f3d7cb399e66a0cd503cec13a047
MD5 Hash: ee9e378fae78b230a23b241cf727c84b
---
Release History
2.3.3
2.3.2
xfce4-whiskermenu-plugin-2.3.2.tar.bz2
Fix editing menu items containing a single quote. (bug #15091)

Fix displaying empty tooltips. (bug #15137)

Translation updates: Dutch, Galician, Spanish, Swedish, Ukrainian.
2.3.1
xfce4-whiskermenu-plugin-2.3.1.tar.bz2
Fix crash when reload is required.

Translation updates: Catalan, Czech, Danish, Greek, Spanish, Finnish, Japanese, Korean, Malay, Dutch, Polish, Russian, Slovak.
2.3.0
xfce4-whiskermenu-plugin-2.3.0.tar.bz2
Fix sidebar wider than iconless categories.

Add buttons for individual logout commands. (bug #14639)

Add option to stay visible when focus is lost. (bug #12240)

Always allow positioning commands next to search.

Improve preferences spacing. (bug #14683)

Translation updates: Bulgarian, Catalan, Chinese (China), Chinese (Taiwan), Czech, Danish, Dutch, French, German, Greek, Lithuanian, Nepali, Polish, Portuguese, Portuguese (Brazil), Russian, Serbian, Slovak, Slovenian, Turkish, Welsh.
---
Recent Changes
Source Code Repository
Reporting Bugs
Open Bugs