This is an old revision of the document!
---
Preferences
This page is work in progress!
General
General Preferences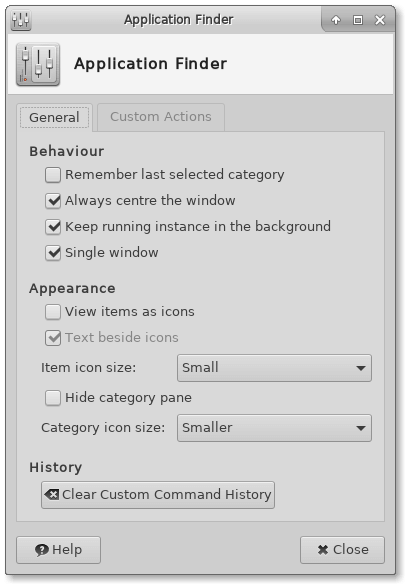 Behaviour
Select this option to make the Application Finder select the last selected category in the expanded view. If this option is disabled, the category All Applications is selected.
By default Xfwm4 will position the window, possibly not in the center of the screen (see the section Smart Placement to control this behaviour). Select this option to always center the Application Finder screen on startup.
Appearance
Select this option to show the applications and command in a icon view instead of a list view.
This option in only active if View items as icons is enabled. Select this option to position the application name or command beside the icon, instead of below.
The size of the icons in the item view.
The size of the category icons in the side-pane.
History
Actions
Custom Actions