Separator
The Seperator panel plugin adds a seperator to the panel to add space between items.
Properties
Separator dialog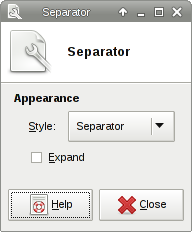 Appearance
You can control the appearance of individual panel separators through these settings.
This expands the length of the separator.

The separator is invisible.
A dividing line is inserted into the separator.
Three lines are inserted into the center of the separator.
Dots are shown across the separator.
Moves plugins that are to the right of the separator into a new line. Use this if you do not want to create a new panel, but need more space for plugins.