Xfdashboard
What is xfdashboard?
Short: Maybe a Gnome shell and macOS Expose like dashboard for Xfce
Longer: xfdashboard provides a GNOME shell dashboard and macOS Mission Control (Exposé and Spaces) like interface for use with the Xfce desktop. It can be configured to run with any keyboard shortcut and when executed provides an overview of applications currently open enabling the user to switch between different applications. The search feature works like Xfce's app finder which makes it convenient to search for and start applications.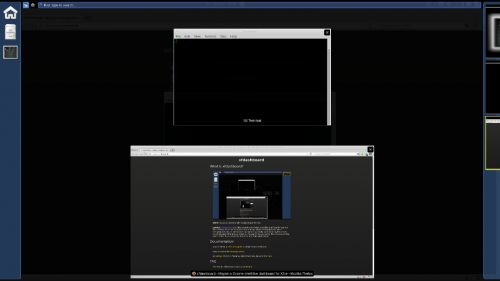 ---
Documentation
Releases
Stable
The latest stable version is version 0.6.1 released at 2016-12-22.
You can download the source tarball using the following links:
For older releases including development versions look at the release archive at the following link.
Development
The latest development version is version 0.7.7 released at 2019-12-03.
You can download the source tarball using the following links:
---
Source code repository
Reporting Bugs
If you are experiencing a bug in xfdashboard, your way of helping things getting fixed is to report a bug about it in Xfce GitLab. Please note that to do this you will need to have / create an account.
Report a new bug
---
Open Bugs
Here's a list (updated daily) of open bug reports with the date that bug was reported in parenthesis.
---