xfce4-time-out-plugin - Time Out
Xfce4-time-out-plugin makes it possible to take periodical breaks from the computer every X minutes. During breaks it locks your screen. It optionally allows you to postpone breaks for a certain time.
The idea is inherited from DrWright, a plugin I loved back when I was using GNOME.
---
Usage
In the properties dialog you have several options to configure the plugin. You can define
the duration (length) of each break (default: 5 minutes)

the time between breaks (default: 30 minutes)

the postpone time (default: 2 minutes)

whether to allow breaks to be postponed

whether to display seconds in the panel

whether to display hours in the panel

whether to display the remaining time until the next break at all
The plugin also offers a context menu which makes it possible to
deactivate the plugin easily

take a break instantly
---
Screenshots
Adding the plugin to the panel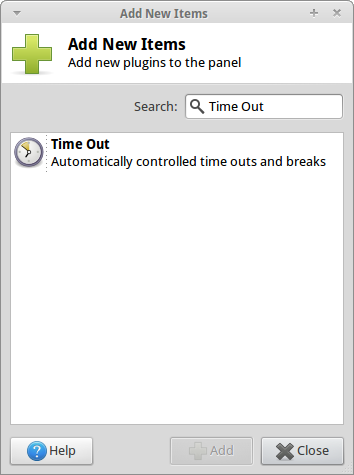 Plugin configuration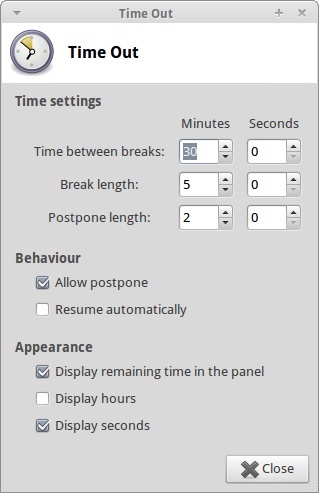 How the plugin looks normally

Plugin context menu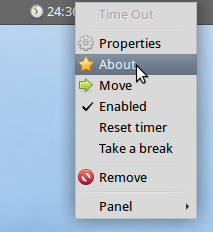 Locked screen during breaks
Required Packages
For detailed information on the minimum required versions, check the configure.ac.in file.
---
Latest Release
xfce4-time-out-plugin 1.1.1 released (2020/07/07 02:24)

xfce4-time-out-plugin 1.1.1 is now available for download from

  https://archive.xfce.org/src/panel-plugins/xfce4-time-out-plugin/1.1/xfce4-time-out-plugin-1.1.1.tar.bz2
  https://archive.xfce.org/src/panel-plugins/xfce4-time-out-plugin/1.1/xfce4-time-out-plugin-1.1.1.tar.bz2?sha1
  https://archive.xfce.org/src/panel-plugins/xfce4-time-out-plugin/1.1/xfce4-time-out-plugin-1.1.1.tar.bz2?sha256


What is xfce4-time-out-plugin?
==============================

This plugin makes it possible to take periodical breaks from the
computer every X minutes. During breaks it locks your screen. It
optionally allows you to postpone breaks for a certain time.

Website:
  https://docs.xfce.org/panel-plugins/xfce4-time-out-plugin


Release notes for 1.1.1
=======================
- Do not enable countdown when configuration changes (Bug #16118)
- Add lock button to break dialog (Bug #16317)
- Update URLs from goodies.x.o to docs.x.o (Bug #16179)
- Translation Updates:
  Albanian, Arabic, Armenian (Armenia), Basque, Belarusian, Bulgarian,
  Catalan, Chinese (China), Chinese (Taiwan), Croatian, Czech, Danish,
  Dutch, Eastern Armenian, English (Australia), Esperanto, Finnish,
  French, Galician, German, Greek, Hebrew, Hungarian, Icelandic,
  Indonesian, Italian, Japanese, Kazakh, Korean, Latvian, Lithuanian,
  Malay, Norwegian Bokmål, Occitan (post 1500), Polish, Portuguese,
  Portuguese (Brazil), Russian, Serbian, Slovak, Slovenian, Spanish,
  Swedish, Turkish, Uighur, Ukrainian, Urdu, Urdu (Pakistan)
---
Source code repository
Reporting Bugs