Time Out
This plugin makes it possible to take periodical breaks from the computer every X minutes. During breaks it locks your screen. It optionally allows you to postpone breaks for a certain time.
The idea is inherited from DrWright, a plugin I loved back when I was using GNOME.
---
Usage
In the properties dialog you have several options to configure the plugin. You can define
the duration (length) of each break (default: 5 minutes)

the time between breaks (default: 30 minutes)

the postpone time (default: 2 minutes)

whether to allow breaks to be postponed

whether to display seconds in the panel

whether to display hours in the panel

whether to display the remaining time until the next break at all
The plugin also offers a context menu which makes it possible to
deactivate the plugin easily

take a break instantly
---
Screenshots
Adding the plugin to the panel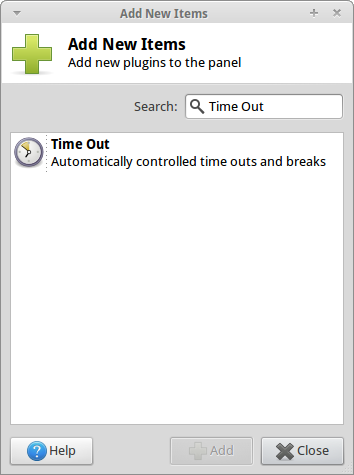 Plugin configuration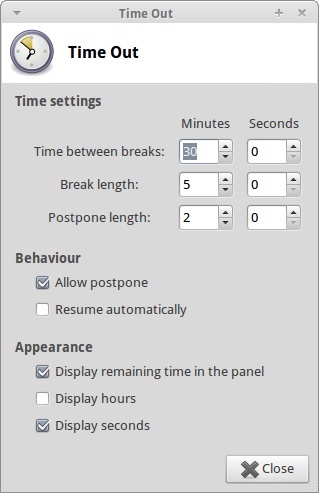 How the plugin looks normally

Plugin context menu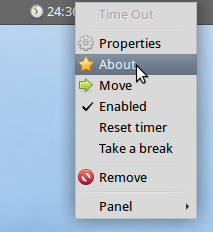 Locked screen during breaks
Latest Release
1.1.0 (2019/1103)
xfce4-time-out-plugin-1.1.0.tar.bz2
SHA-256 Hash: ee4a51a35076d50cba3824079f8312585373ff2f0d9ebc740d8f3c0426430a19
SHA-1 Hash: 7e6fb6b52e1a2ac7fa4d236ea59c1a311227f4e9
MD5 Hash: afa0ef865a49f28165098d3fe625df44
---
Release History
1.0.0
Translated into a total of 31 languages, with 15 at 100%

Fix bug #3310

Fix bug #4699

Fix bug #3224

Allow setting the time with a precision in seconds, rather than minutes

Added an about dialog

New optional resume button to be pushed at the end of the pause

New progress bar in the lock screen
Dependencies
GTK+ >= 2.8.0

xfce4-panel >= 4.4.0

libxfcegui4 >= 4.4.0

libxfce4util >= 4.4.0
---
Recent Changes
Getting it
Source code repository
Reporting Bugs
If you encounter a bug in Time Out, please submit a bug report to the Xfce Bugzilla. Please note that to do this you will need to have / create an account on Bugzilla.
Open Bugs